I really enjoy going to tournaments and spending time with all of my soccer friends and watching my girls play. Packing for those tournaments has become an art form in itself and I realized that I need a really good list to make sure I don't forget anything. Seems like I change strategies every year, but this year my goal is to streamline and reduce the amount of stuff that I'm bringing as well as making it easier to carry.
1. Tote Bag
I keep a roomy tote bag (cute of course- my current one is from Stella and Dot) stocked with sunscreen and a separate bag inside filled with all the soccer "necessities." (Isn't the London bag cute?? It was a gift from my sweet British sister in law) I throw my wallet, keys, sunglasses and phone inside the tote and I'm ready to go! Sometimes I also bring my big camera and that fits in my bag too. I always carry Benadryl in my wallet after all our bee sting adventures last summer so that goes everywhere with me, but having my little soccer bag packed really makes my life easier. Everyone teases me about having all this stuff, but who do you think they go to when they need anything?!?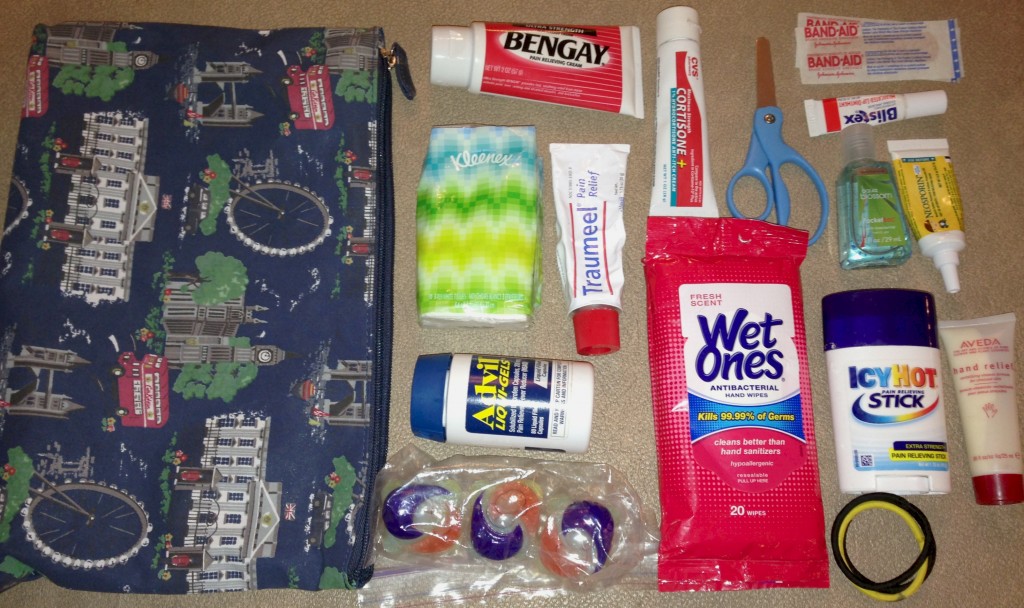 |Muscle Aches- Bengay and Icy Hot | First Aid- Neosporin, Bandaids and Cortisone |
| Pain- Advil and Traumeel|
| Hygiene- wet ones, tissue, hand sanitizer| Misc.- scissors, hair ties, lotion, blistex, laundry detergent pods |
|Lots of sunscreen- spray, face and the stick|
2- Rolling Cube Cooler
Ok, now here's the ground breaking part of my system. (Ha- Ha!) I know everyone has a rolling cooler, but mine has a secret… I load up the bottom with ice packs, bags of ice, drinks and fruit. I also add washcloths to the ice and a spray bottle if it's going to be really hot. Then I put a "special waterproof layer" (ok, it's just a reusable shopping bag or a small tarp to sit on) and then I pile on the rest of the stuff I have to carry (manager bags with cards etc…, other food, sweatshirts, etc) Yes it's a pain sometimes to get to the drinks, but it really helps carry everything. I can also loop my tote across the handles (or even stick it inside) and then I'm all set! You can also sit on it if needed (I know, I know, it says not to) or use it as a table.
| Drinks- water bottles, Gatorade, diet coke (for me!) |
| Food- watermelon/grapes/strawberries, Uncrustables/PB & J, granola bars, sun chips |
3- Folding Chair
Mine isn't as fancy as this one, but a light chair is always a plus. I like the shade this one provides, but it makes the chair heavier. Sometimes the walk from the car to the field is really long and it's just not worth it to carry a heavy chair! If I have my hubby with me we often bring an EZ Up or Sports Umbrella as well.
4- The Girls' Backpacks
My girls keep their soccer backpacks stocked with the following…
|Small Inside Pocket- phone, sunscreen stick, lip balm, Traumeel, advil, Benadryl, cash |
|Large Pocket- two pairs of socks, jerseys in a zip lock bag, shin guards, cleats, sweatshirt, flip flops |
|Zip Lock inside- pre wrap, scissors, sports tape, shin guard wraps|
|Zip Lock inside (both my girls wear contacts)- extra contacts, eye drops, hand sanitizer|
|Outside Pockets- soccer ball, water bottle|
I like them to be self sufficient in case they go with a friend (or with Dad!) which happens more frequently as they get older.
5- Water Bottles
We've gone old school and ditched our metal water bottles for the Coleman bottles with a handle. It's easy for the girls to carry and they hold a lot of water and ice. We still use the metal ones for practice, but you can't beat these for long days.
Any other suggestions or packing strategies? Please share!
If you're interested, I created a little packing chart for myself. Click here for the PDF.